Ownership Experience Best Practices
Heather Wilkerson
In our last post, we took an in-depth look at Ownership Experience (OX for short) and the many reasons why the OX has become a top priority for brands across all industries. In brief, the Ownership Experience is the sum of interactions between a product, the customer and the brand across all stages the customer owns the product.
Ownership Experience Best Practices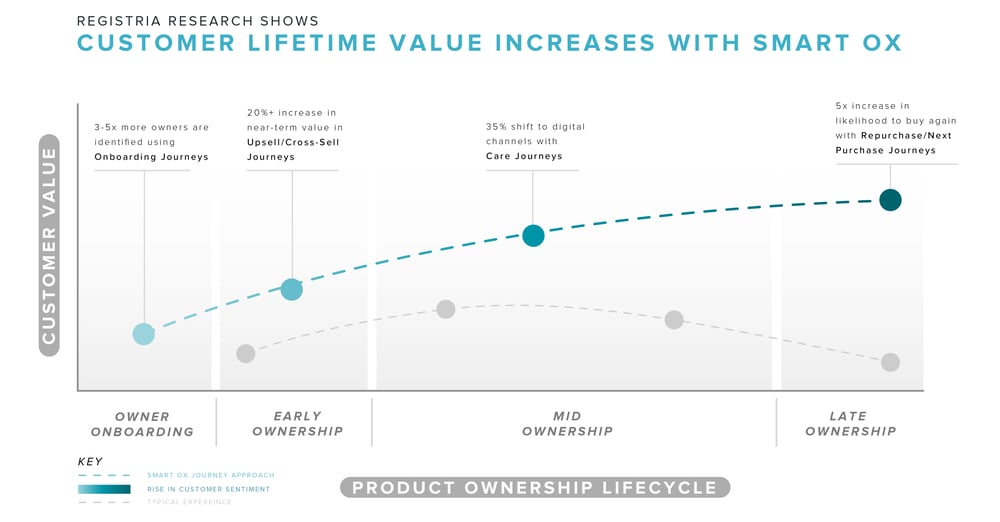 The quality of the OX is heightened by brands collecting and making use of first-party customer data to offer a myriad of Owner Journeys throughout the Ownership Lifecycle. These journeys can be categorized generally as Onboarding (initial identification, data gathering and product registration); Care (customer support and product-related interactions); and Commerce (offers that can enhance revenue and customer LTV). Together, these Owner Journeys comprise a relevant, expedient, and, most importantly, personalized Ownership Experience that is proven to increase customer satisfaction, brand loyalty, and customer lifetime value.
While the benefits of an exceptional OX are well-defined, bringing together all the pieces into an effective and efficient system takes some experience and know-how, as well as alignment across the organization. In this post, we'll discuss the best practices that brands should know to optimize the Ownership Experience for their existing customers.
Key Elements of a Successful Ownership Experience
In 2020, McKinsey revealed the importance of personalization as a way for retailers to differentiate themselves. At a time when traditional methods of differentiation, such as pricing and product selection, began to lose effectiveness, retailers that began to further embrace personalization – with the right data foundation and organizational alignment – saw tangible results.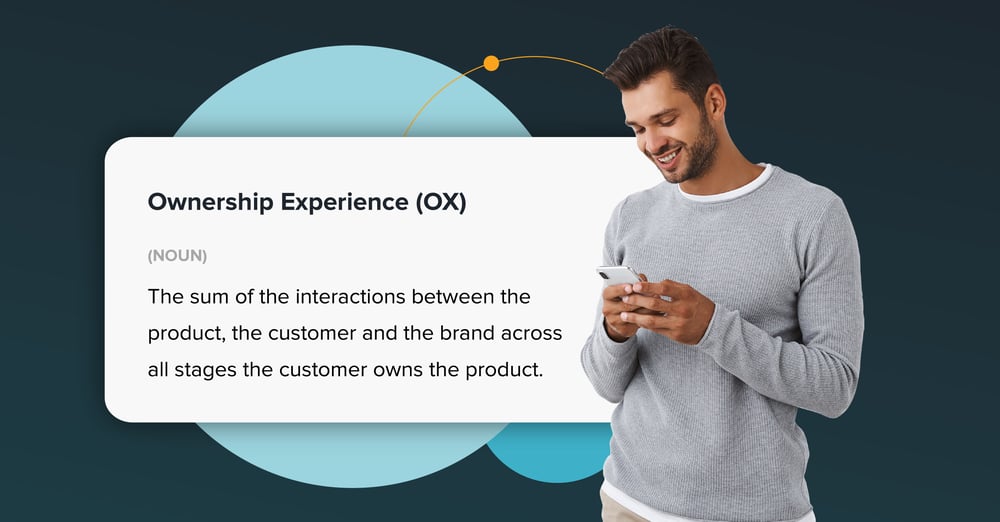 The same is true today, and has been for several years, for durable product manufacturers. Where traditional forms of differentiation are falling short, customers are responding favorably to a cohesive and personalized Ownership Experience.
As with retailers, the success of a product manufacturer's OX offering relies on four key elements:
Actionable first-party data used to better understand who owns their product, their behaviors, and needs

A "playbook" of relevant Owner Journeys designed with existing customers in mind

An intelligent technology platform that can deliver personalized Owner Journeys at scale and which integrates with the brand's existing systems

Cross-functional alignment throughout the organization that enables different areas to leverage customer data and insights
While many companies collect data on customers, few have the systems and processes in place to analyze the data in a meaningful way that contributes to the Ownership Experience. Brands that excel at Ownership Experience not only undertake comprehensive analysis, they make the data available across the organization so that every team can benefit from it. And they optimize both existing and new technology to enable delivery of personalized and relevant Owner Journeys at scale.

Onboarding Best Practices
The foundation for a successful Ownership Experience is data – but not just any data. First-party data collected during customer onboarding and product registration results in highly accurate information about who the customer is and the product they have purchased. The onboarding moment is also an ideal time to ask for additional owner information via a survey or a review request.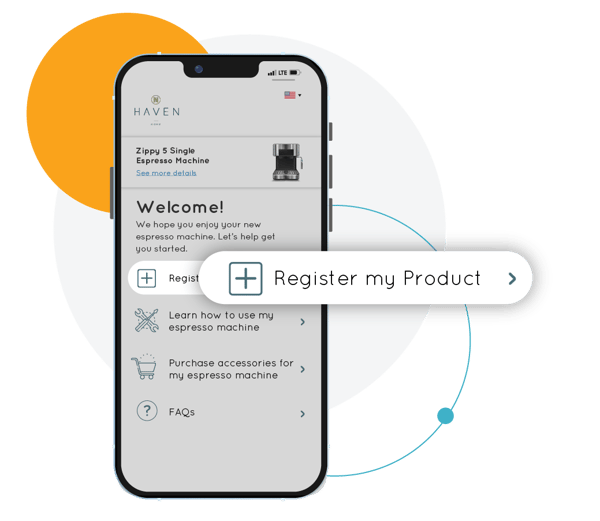 All the data collected during onboarding, when properly utilized, can provide tremendous insight into the customer's behaviors and preferences, which in turn can ensure Owner Journeys are timely and personalized.
In order to make Onboarding efficient and engaging, we recommend the following best practices:
Provide a frictionless mobile onboarding option that is evident and enticing to the product owner via product packaging, inserts or on the product itself.

Make it easy for owners to share key product information, such as model and serial number, by embedding this information in a scannable

Photoregster

TM

or QR code.

Collect customer name and other personal information without asking them to download an app or choose a password.

Collect opt-in permission for future communications from the brand.

Enable repeat customers to register additional products without having to re-enter their personal information.

Acknowledge the stage of ownership the customer is in by presenting relevant information, such as a digital quick start guides, digital manuals, and timely offers, including a care plan or extended warranty.

Demonstrate how owners can initiate communication with the brand about their product when they need support, want to purchase accessories, or require other assistance.

Provide an on-brand onboarding and registration experience that aligns with other brand environments.
The benefits of optimized Onboarding are clear – more registrations means the brand identifies more owners. More owners means more data, and more accurate data, which helps brands derive significant insight about their customers and set the stage for future interactions.
Care Best Practices
Today's product owners desire personalized support on demand and, increasingly, via mobile devices. In an effort to meet these expectations, many brands have invested in Artificial Intelligence (AI) technology, such as chatbots. Unfortunately, these efforts can fall short, in part because the interaction isn't personalized and sometimes isn't able to provide the resources the customer needs at that moment. Chatbots and other customer-facing AI may seem cutting edge, but when they don't operate based on known data, the experience falls short of customer expectations and can be frustrating.
Imagine instead an AI-driven experience that recognizes the product owner and the product(s) they own, and with a relevant query or two, directs the customer to the resource they are seeking. This scenario is not only possible, it's scalable – with the right technology platform. And it's the heart of Care-related Owner Journeys.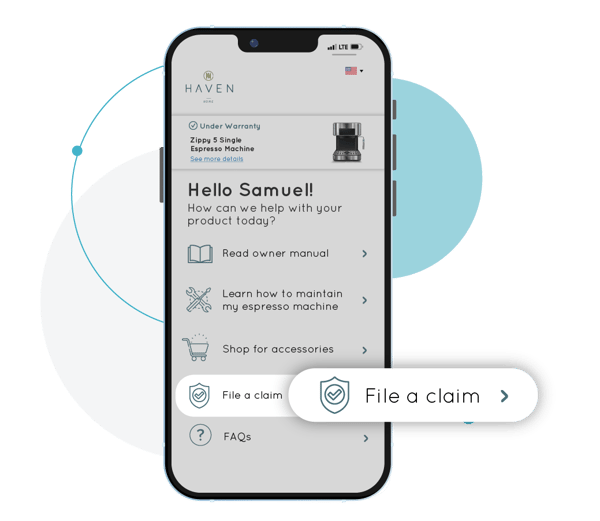 Care Owner Journeys can include product resources, customer support, claims management, proactive maintenance, and rating or review requests.
In order to provide the best Care to product owners, we recommend the following best practice:
Maintain a centralized data repository that equips customer support teams with the owner and product information collected during onboarding.

Utilize owner and product data collected during Onboarding to infuse AI technology with intelligent automation.

Provide easily accessible self-serve digital resources for owners, such as manuals and how-to videos, that are available on demand, 24/7.

Integrate Care plan information with AI so owners can quickly find the status of their current warranty coverage, easily submit a claim, and track the progress of claims.

Auto-populate known product and owner information in self-service support and warranty claim submissions.

Maintain an open channel of communication with product owners for important transactions such as service or maintenance alerts and product maintenance requests.

Make it easy for owners to write product reviews and ensure peace of mind for future customers by consistently providing new verified reviews during the shopping experience (Online marketplaces will love this too!).
An intelligent AI driven by a data-based rules engine results in better customer support, reduced ACHT, and more self-serve options for owners who prefer them. Additionally, optimizing the Care experience can result in fewer product complaints and returns, more positive ratings and reviews, and increased brand loyalty overall.
Commerce Best Practices
As we've discussed, a comprehensive Ownership Experience offers Owner Journeys that span the product ownership lifecycle. Along with Onboarding and Care, this lifecycle includes many opportunities for the brand to realize additional revenue from existing product owners and enhance customer LTV. These Commerce journeys may include offers for care plans, accessories, consumables, loyalty programs, and upgrades, as well as upsell and cross-sell opportunities, affiliate offers, and more.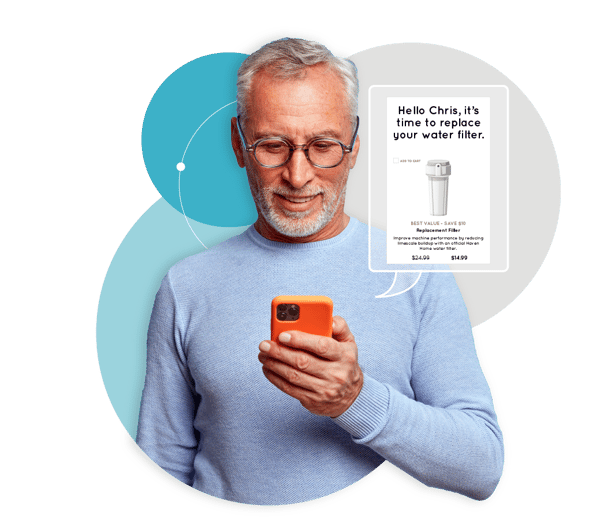 The key to success here is both the personalization and timeliness of the offer. We've seen that some offers, such as extended warranties and care plans, perform well during onboarding, while other offers are more relevant after the product has been owned for a time. Both personalization and timeliness rely on owner and product data, which underscores further the need for a centralized data source and cross-functional alignment.
For Owner Journeys related to Commerce, we recommend the following best practices:
Ensure offers are relevant to the product owned and the stage of ownership. Present the right offer to the customer at the right moment in the channel they prefer!

Use design best practices to present offers in a clear, concise manner and guide the owner through the purchase.

Capture accurate phone numbers and opt-ins during onboarding to enable SMS/text messaging offers at a later time.

Provide smooth transitions between channels, such as between a mobile offer delivered via SMS and the brand's e-Commerce site.

Enable alerts that notify owners when a product is due for maintenance, to increase service revenue and extend the life of the product.

Stand out in the "inbox" with post-purchase campaigns that are personalized to the owner and the product(s) they own.

Legitimize affiliate and third-party offers with personalized data and cohesive branding.
By implementing Commerce Owner Journeys, brands get "more bang for the buck" by realizing revenue from existing customers, which traditionally is less expensive than acquiring new customers. In addition to this new revenue stream, Commerce Journeys help brands increase customer LTV and brand loyalty.
The Comprehensive OX Journey
As with any strategy, these best practices, and many more, are the result of trying different approaches and adjusting as needed to achieve optimal results. They have been honed through our partnership with durable product brands that understand that prioritizing the OX contributes to differentiation. Together, we're working toward making every product Ownership Experience smart, personalized, and valuable for both owners and brands.
Every Ownership Experience starts with an Owner Journey. Every journey starts with a first step. Take the first step today by scheduling time for you or your team to speak with one of our OX experts.