Ownership Experience Key Performance Indicators (KPIs)
Chris McDonald
An important set of Key Performance Indicators (KPIs) have emerged as brands transform their owner onboarding approach from a transactional product registration event to an engaging onboarding experience. Organizations should consider the following indicators to measure results, optimize their onboarding experience, and maximize value creation.
The New Ownership Experience KPI's

The Onboarding Experience KPI's
Registrations Started and Abandoned: How many owners are landing on your registration page? How many complete registration? (Best practice brands can see 92% completion rates via mobile onboarding compared to 68% completion rates via web-based onboarding.)
Effective Registration Rate: Of the completed registrations, how many are considered actionable and accurate? (Hint: Accurate name, email and product are really important for providing personalized ownership experiences!)
Speed to Register: How close to the purchase date is someone engaging with your brand? (The closer to purchase date, the more responsive your owners are likely to be.)
The Owner Data Quality KPI's
Verified Mobile Phone Number and Email: Are you verifying contact information to protect your database against typos or invalid entries?
Opt-in Rate (Email and SMS): How many owners are opting in to receive sales or marketing materials? (20% of owners that register do so specifically to receive promotions or rewards from the manufacturer.)
Deliverable Postal Address: Are your mailing addresses standardized and form fields optimized to auto-fill?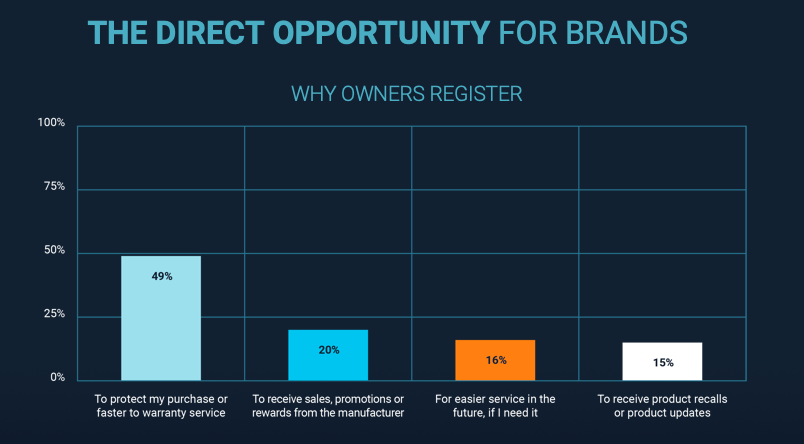 The Product Data Quality KPI's
Valid Model and Default Model Rates: Do your model tables match what's being entered into your registration forms? (Auto-fill can help!)
Valid Serial Number (SN): Are your serial numbers being matched to serial numbers in your database?
Valid Purchase Price: Are your retailers charging your customers to your pricing model?
Discount Rate (Price v. MSRP): What sort of margins are your retailers realizing?
The Monetization KPI's
Offer Eligibility Rate for Services and Merchandise: What percentage of your registered products include a service or merchandise offer at point of registration?
Attach Rate for Service Contracts and Merchandise: Are your point of registration product and service offers yielding conversions to sales?
Average Sale Price: What prices are you selling your services or products for?
Revenue per Registration (30 Days, 90 Days, 1 Year, 3 Years): How much revenue do you attribute to each owner that registers?
The Owner Loyalty KPI's
First-time Purchasers: Which of your owners purchased from your brand for the first time?
Repeat Purchase Rate: Which of your owners have shown loyalty in returning to your brand?
Speed to Repeat Purchase: How quickly do those returning customers purchase something else from you?
Ratings and Reviews Rate: (Hint: Asking for a review 21 days after purchase is the best way to receive both a positive rating and a higher volume of reviews!)
Customer Satisfaction Index (CSI) and Net Promoter Score (NPS): How satisfied are your customers and how likely are they to recommend your products or brand?
It is imperative for brands to measure their efforts and optimize their programs as they transition from event driven product registration into an immersive and valuable onboarding experience. Brands can use these ownership experience KPI's to guide their transformation efforts as they provide value to their product owners and their business.