Prime Day's Hidden Opportunity
Heather Wilkerson
Prime Day, Amazon's annual sale for its Prime offering members, is one of the biggest sales events of the year, second only to Thanksgiving weekend. With revenues last year of $4.9B – a two-fold increase over 2017 – many participating brands see a three-to-four-fold uplift in sales. This year's Prime Day has grown into two days, July 15-16, and will take place in 18 countries, paving the way for another record-breaking event.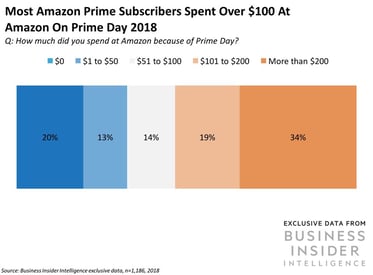 More sales means more customers, and a tremendous opportunity for brands to connect with their buyers and begin to build a lasting relationship from the moment they unbox their new product. Surveys show that more than half of all Prime members plan to shop Prime Day, equaling an estimated 50M consumers. Fifty-three percent of Prime Day shoppers in 2018 spent more than $100, making this audience a key demographic for brands. Additionally, Prime Day can result in a "halo effect," increasing traffic for many products for up to two weeks after the event.
Seize The Prime, Own Your Ripple Effect
The Prime Day sales bump is great for a brand's bottom line, but that's just the beginning. How many Prime Day customers do you expect will open your product boxes? How many of those unboxing experiences will not only exceed customer expectations but allow them to engage with your brand digitally? Are you content with making your sales numbers… or do you want to springboard those sales into lasting, mutually valuable relationships with your customers?
If you haven't considered these questions, you're celebrating sales but missing out on the opportunity to expand your relationship with buyers, grow your database and encourage repeat business.
For many product brands – especially those in the electronics, home and housewares, and juvenile products verticals – participating in Prime Day is no longer an option. Your competition is there, and so are your customers. And with other retailers like Target and Walmart offer competing sales during Prime Day, the chances that your product will reach new buyers is inevitable. The question is – do you know who those product owners are?
The investment for participating brands is significant, so capitalizing on that investment is key. Knowing who purchased which product is fundamental to growing a dynamic customer database that enhances future sales revenue and enables Direct-to-Consumer initiatives. Knowing your customer, and engaging them quickly in the product lifecycle, facilitates brand loyalty and product satisfaction, while increasing the likelihood of a positive review during the initial phases of product ownership.
Seize the prime opportunity in front of your brand – double down on your investment by selling more products and engaging with the customers who purchased those products, no matter where they're purchased.
3 Easy Steps To Seize The Next Prime Opportunity
The most successful product brands are putting the ownership experience first and are looking to build long-term, direct relationships with their customers. The old adage, 80% of your revenue comes from 20% of your customers, still holds true today. Our experience with global brands brings to light a number of best practices to help you capitalize on the next big sales opportunity. (Hint: It's right around the corner in November!)
Invite your product owners to connect with you. If you don't ask them to connect, chances are they won't. Omnichannel options are important, but many product owners these days prefer to connect with brands digitally using convenient methods such as mobile onboarding. Be sure the call to action is simple and visible, offers a distinct value, and dovetails with your existing customer and ownership experience efforts.

Put your owners first. A seamless experience is key when it comes to the first experience your product owners have with your brand. Digital onboarding makes it easy to personalize the experience to the product and use your existing content to provide support. Set your owners up for success and they'll repay you down the road by being loyal and referencable customers.
Have a plan for after the initial "welcome" period. Now that you've started a dialog with your product owners, how can you continue to provide personalized value and build trust at each interaction? Consider these best practices.

Ask for a product review once the owner had some time to experience and use the product (21 Days after purchase date yields the best results).
Offer additional products or accessories that align with the initial product purchased.
Notify owners when the warranty is expiring. Offer service plans or warranty renewals to drive new revenue.
Leverage your owner data to find new insights that aid future marketing and strategic initiatives.
Amazon Prime Day and the holiday shopping season offer significant opportunities for brands, both in terms of sales and the ability to get to know more customers.
Here's to wishing you a fantastic Prime Day!