Heather Wilkerson

Marketing is transforming from a cost center into a revenue generator. Google says so, and so do we. In fact, we can prove it. We see it every day with Registria clients who are realizing an average five-time return on investment from their post-purchase campaigns. It's become such a positive outcome for our clients and their owners that we decided to quantify the outcomes. Introducing… Owner Math!
Owner Math is an established formula that helps brands quantify the value of post-purchase ownership experiences for their product owners through direct channels, and the measurable return of high margin revenue and greater owner satisfaction over the lifetime of owning a product.
How does it work? It's actually quite simple – no algebra required (phew!).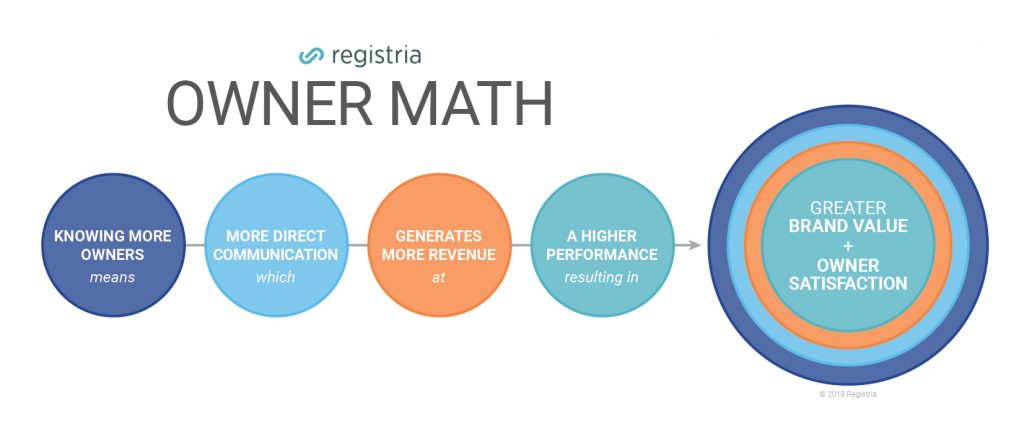 Knowing More Owners means More Direct Communication which delivers More Revenue at Greater Efficiency resulting in Greater Brand Value + Owner Satisfaction
For product brands, the first part of the equation, Knowing More Owners, is often the most difficult. How do you find out who has purchased your product? Typically the answer is via product/warranty registration. More registrations = more known owners. So step one is increasing registrations and gathering pertinent information on your product owners, which we make easy with Photoregister℠ or voice-enabled devices like Alexa.
Second, leveraging this registration data and associated insights means that you can have More Direct Communication with your product owners via email or SMS/text, channels that today's consumers prefer and which they are most likely to respond to.
This direct communication delivers More Revenue – a 3-10X return on investment for many of Registria's clients. By presenting relevant offers to engaged, current product owners via preferred channels, brands open up a new point of sale for upsell or cross-sell offers, accessories, service plans, warranties, and even partner offers.
The best part is that this approach delivers Greater Efficiency compared to other traditional media. It's simple math, really. Incremental revenue delivered through this new post-purchase channel plus a higher margin on subsequent purchases from existing customers.
The result is not only significant additional revenue – which can be tracked back to marketing and enables the transformation from cost center to revenue generator – but also Greater Owner Satisfaction. Happy product owners are more likely to buy from the brand again and to encourage others to buy from the brand. Case in point, after using Registria for six months one global appliance brand saw its ratings increase from two stars to 4.5 stars, and saw product owner recommendations for purchases skyrocket from 25 percent to 89 percent. Now that's proof!
So there you have it -- a proven way that your brand can realize ROI from investing in the Ownership Experience, and a tangible way to measure the value of your owner relationships. Owner Math offers a two-in-one solution for marketers who are being asked to contribute to the customer experience and generate revenue, and show the results of their work.