Registria recognized with Innovation in Warranty Award
Registria
I am excited to share the news that Registria received the Innovation in Warranty award during the Warranty Chain Management
Conference. Terry Hawkins, President of the Global Warranty and Service Contract Association (GWSCA), said while presenting the award: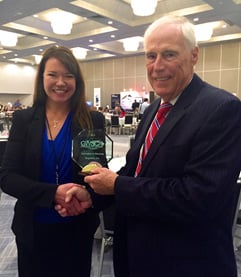 "Registria's focus on raising product registration rates (average 3-5X) is the first innovation in this area since the early 1980's. This is a game changer for brands selling service contracts and other aftermarket products and services."
I was delighted to accept the award on behalf of Registria. We are thrilled the judges recognize the value of our approach to increase both product registration and service contract attachment rates.
This comes on the heels of Registria receiving the 2014 Direct Marketing Association (DMA) Innovation Award in Social, CRM, and Loyalty for Connected Product Registration. We also recently launched Photoregister – a mobile registration service providing consumers an easy, instant and accurate way to register products direct with the brands they buy.
We sincerely thank the GWSCA for recognizing and believing in our innovative vision. This award is a tribute to the many brands that share their challenges and collaborate in our product development process to create innovative new products.
For more information, please read the GWSCA press release on the Innovation in Warranty Award or watch our video on Photoregister.