From Moth Balls to Mobile: Product Registration for our Generation
Chris McDonald

The headline captures my eyeballs: "$150 Moth Insurance Policy at No Extra Cost."
In big bold letters, the call-to-action crowning the product registration card encourages product owners to register their ROOS cedar chest, "offer expires July 1940."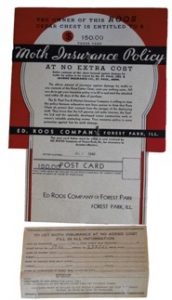 There it was, nearly eight decades before the launch of Photoregister℠, a perfectly executed incentive for owners to self-identify with the brand that stands behind the product they just purchased. In this case, a beautiful 1940s vintage cedar hope chest crafted by the Ed Roos Company of Forest Park (Illinois) that my wife recently inherited from her grandmother, Ruth (Anderson) McGrew.
Established in 1918 by a second-generation chest maker, the ROOS company became the largest manufacturer in Forest Park, eventually employing 400 people. It's reported that "shrewd magazine marketing and a sales force made the cedar chest a 'must-have' item for new brides."
Of course my wife is delighted to be the new caretaker of this family heirloom. My delight comes in the discovery of a product registration card stapled to the underside of the lid offering a free Moth Insurance Policy. A typewriter, presumably at the factory, has completed the fields for chest style, serial number, and offer expiration date. The policy offered "at no extra cost" is backed by the St. Paul Fire and Marine Insurance Company which, according to the label, it was willing to offer because "exhaustive tests have proven to them that Roos Chests do protect their contents from the ravages of the destroying moth."
Adding a new – and by far the oldest – example of a product registration card to my collection, something with which I am uniquely obsessed, thrills me like the find of the Dead Sea Scrolls must have thrilled archeologists. My mind seizes in wonder with three thoughts….
First, we just "carbon dated" the concept of product registration to four decades earlier than we knew it existed. Clearly, the management of accurate warranty and entitlement information, and validating product authenticity, is important and timeless as evidenced by the serial number carefully typed (TYPED!) on the card.
Second, a century-old brand standing behind the quality of its products by offering a special warranty, but also reaching out to connect with their customers, made me realize how important the work Registria does today with leading global brands is to the pre-sale decision making process of consumers. Would the ROOS company have added "Text 'ROOS' to 71403 for reviews on this product" if that technology were available to them?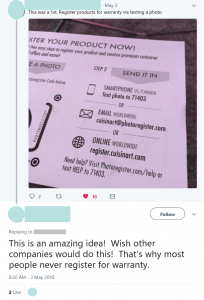 Last, the idea of offering a warranty or adding an extended service plan for customers who register products is not new! Honestly, Registria collaborated for more than 18 months with many leading brands to test and prove out something already time-tested! Sure, we have evolved this registration moment that starts the post-purchase ownership experience into a very productive point of sale for service plans and accessories, but it was right in front of us all along. I just needed to open the lid of a family heirloom to see it.
Indulging myself with unanswerable questions, I wonder aloud if the ROOS company would have offered Photoregister as a method for their new customers to connect with them. Compared to traditional methods, it is faster, easier, more accurate, garners higher registration rates, and consumers like it. It also produces an average of up to $20 per registration in additional revenue.
I'm not sure if ROOS was ahead of their time (or if many brands today are behind it), but I suspect they would have joined the community of 130+ brands offering our services to their customers. Just as not many people these days keep hope chests, few people today fill out paper registration cards. If you're still trying to connect with customers "the old-fashioned way," it's time to upgrade your program for the mobile generation.
It would be our pleasure to add your old registration drivers to our museum and your new registration program into our collection of featured best practices for the digital world.